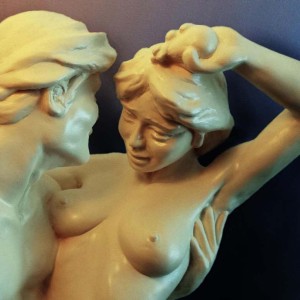 Michelangelo's vignette The Fall of Man expresses the centuries old interpretation of woman's involvement with Original Sin.   He continues this narrative through the depiction of the male snake of Genesis painted in the female form.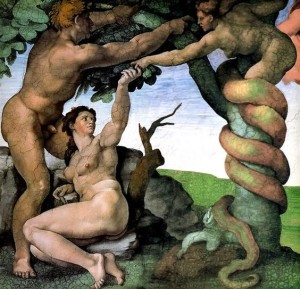 Throughout history there has been the tendency to excuse man's lack of self control on woman's influences.  With countless biblical references including  Adam in Genesis 3 pointing the finger at  Eve, blaming her "she gave me fruit from the tree, and I ate."
This similar to King David being tempted by Bathsheba as he spied on her while she bathed.  This ultimately led to David ordering the murder of her husband, the ultimate consequence of Original Sin.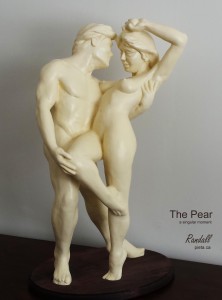 It's a shame how much of the renaissance art promotes these misogynistic themes.
I prefer to see Adam & Eve in the supportive role as partners.   Both equally aware and equally responsible.  A pairing of minds and bodies.  The forbidden fruit then must have been a pear.
The Pear captures the moment before the first bite, as Adam is lowering Eve down from the tree. Their eyes meet and for the first time they begin to understand the significance of their pairing.
The Pear is by far my most challenging design.  The figures poses were a challenge to blend together.  It seamed that every time I would adjust Adam's arm, Eve's hips or leg would need to be moved.  If your curious on the details of each step; from design to casting to finishing, just click on "Step by Step" and follow me along the process.